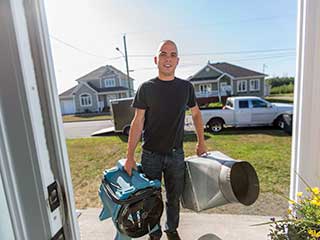 Our professionals specialize in delivering professional and comprehensive solutions regarding the cleanliness and proper operation of the air ducts in your home. Since the ductwork is mostly concealed and not easily reached, and since cleaning it is not something people tend to include in their weekly house chores (or annual house chores for that matter), this important infrastructure tends to accumulate dust, dirt and other obstructions that hamper its proper function. When that happens, it is usually immediately noticeable, and not in a pleasant way.
What's the Air Ducts' Purpose?
The ductwork is one of those things, which mostly remain hidden and out of sight, yet serves a very important purpose. The main purpose is to supply a constant flow of fresh and clean air from the outside into the house while also clearing away used air or residual gasses. Their secondary goal is to allow the A/C system to fulfill its purpose and control the temperature in the house by moving hot or cold air through its different rooms and spaces. When something goes wrong with it, these two goals are no longer met and immediate action is required.
What Will Our Technicians Do?
Once you call Air Duct Cleaning El Cajon's call center we'll schedule an appointment at your earliest convenience. When our team arrives at your house, they will inspect the situation and determine the best and most effective course of action. They will then proceed to remove all vents to clear their way into the ducts themselves. Then, they will thoroughly clean all ducts until they are completely free of disturbances and can once again fulfill their purpose flawlessly.
Contact Us for Professional Assistance
Should you suspect there's something wrong with your ductwork, give us a call right away. We deliver expert solutions throughout El Cajon and its vicinity for very fair prices. Give us a call, we're waiting!
We also offer the following services: