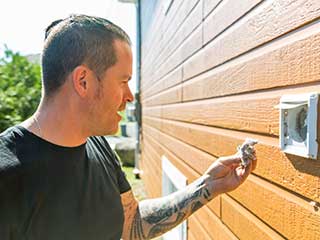 What To Look Out For!
If you're unsure how to know if it's time to get your dryer's vent cleaned, there are a few things to check! If the vent itself is visible, you should be able to spot lint and other materials sticking out of the slats. Otherwise, pay attention to the drying time. If it's taking longer than it used to, or you have to set the cycle to go on for longer, that can indicate that it's clogged up. A higher energy bill may also go along with this with no other indications as to why it might be costlier than before. Lastly, but most importantly, if you smell something burning, immediately turn off your dryer and refrain from using it until you get the vent cleared!
Why Get It Done?
When you have many projects to do in your home, it may not seem like a big deal to ignore your dryer's vent. However, for the safety of your home and family, you should pay attention! The lint and dust trapped in the vent can begin to burn thanks to the high temperatures, and that can set off a spark of flame that will spread quickly. Along with being a fire hazard, it also drains your energy. Thanks to less air being able to move through the clogs, the extended time it takes to fully dry your clothing ramps up your energy spending and wastes money.
We'll Take Care Of It!
Using the highest quality equipment, our professionals will get your vent taken care of and pristine again in no time! We'll come at a time that's best for you, and get the job done quickly. However, we'll also ensure that the cleaning is thorough and will last for as long as possible. Speed shouldn't mean sacrificing excellence! With us, you won't have to worry. Whatever brand you have, we have the knowledge needed to handle it.
Contact Us Today!
Just call Air Duct Cleaning El Cajon now, and we'll get to work.