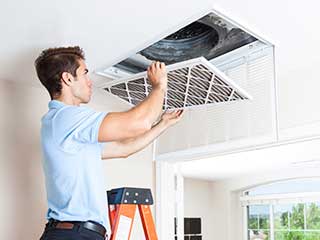 What's the Point of Cleaning Ducts?
While your air ducts are working hard to pull in air to distribute throughout your home in the form of heat or AC during the year, they are also drawing in much more than that.
Dust, allergens, and even pet dander can get caught up in your ducts, and start to build up over time. If left long enough, according to the EPA, they can accumulate up to 40 pounds worth of dirt! Not only can this waste energy, as your ducts must work harder to get the air through them, but those substances are being distributed into your home multiple times a day for you and your family to breathe in.
Not only is that unpleasant to think about, but it can be especially problematic for those who can't breathe well to begin with. For older people, or those with any kinds of breathing disorders such as asthma, poor air quality can be hard on their health over time. Along with this, it can be rough on people with allergies as well. Even if you have none of these troubles, breathing in these contaminates over time can still cause you to feel worn down and tired. So, what can you do?
Get the Professionals To Help!
Our company has years of experience when it comes to cleaning air ducts and getting them spotless, which go on to do the same for your air. Using an agitator, our professionals will carefully dislodge the blockages, then quickly suck them up with a vacuum before they can make their way into your home. This is all done with the best tools available, so you won't have to worry.
You can count on our company to do a thorough job, as well as a swift one! This is thanks to years of experience helping customers just like you in the area. If you're going to trust someone with the quality of the air that you and your family breathe, it should be a business that promises to provide the best service to its customers, like we do.
Call Us Today!
Contact Air Duct Cleaning El Cajon now, and we'll get to work as soon as we can! You'll only regret not calling sooner.