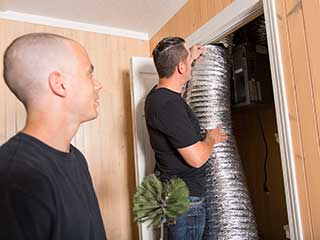 When taking over a new home or going through making sure everything in your house is maintained, you want to make sure that all the different components are performing as they should. This will often be the point where you notice areas that need attention. Remember to inspect your air ducts while you're at it. While some air duct issues are identified due to air quality or dust problems, you are sometimes able to see damages or other faults directly. While we can often repair or clean the ducts, sometimes replacement is necessary, such as in the case of serious damage, mold growth, and poor construction.
Rips, Tears, And Dents
These are the kinds of damage that occur most commonly. They may be a result of age, items falling on the ducts, or other causes. If this happens, repairs may be possible depending on the extent of the damage - but in more severe cases, replacement is necessary. We can assess the damage, and perform repairs and replacements as needed.
Mold Growth In The Duct
You may be able to see mold if you look into the duct with a flashlight, or the air that comes out from the vent may smell bad. These are the signs to look for if you want to identify if you have mold in the duct. Mold may be hazardous to the health of the household and should always be taken seriously. Replacement is often the only option in this case. Of course we can assist you in figuring out if mold is present in your duct.
Poorly Constructed Ducts
If constructed with inadequate attention to detail, air ducts may become problematic over time, and often faster than they would otherwise. It can be almost impossible for you to spot direct signs of poor construction, but we may identify it as the cause of another problem, such as excessive dust. If this is indeed the case, replacement is necessary in most cases.
We strive to provide the most effective solutions for our local customers. We will repair and clean air ducts when possible, but in some cases will have to replace the entire system or parts of it.