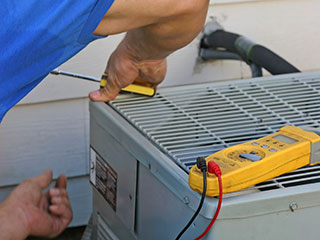 When your HVAC unit is acting up, one of the best ways to help determine what the issue might be is through troubleshooting. Our skilled professional will investigate the numerous possible causes to rule out issues and then determine what might be causing your unit to not work properly. From low refrigerant, to thermostat glitches and condenser problems, we will troubleshoot the unit and find out what is causing the issue.
Regular Cleaning & Maintenance
We always recommend that every HVAC unit undergo regular cleaning and maintenance. This helps ensure it has a longer service life. Cleaning and maintenance is also beneficial in preventing serious issues from occurring down the road. Tasks such as leveling the unit, cleaning a plugged evaporator drain and removing the debris from around the unit to avoid future buildup, all help to increase efficiency and prevent costly repairs in the future. So don't wait until there is a problem with your HVAC unit, get it checked today.
Filter Replacement
One of the easier yet very important and often overlooked parts of keeping your HVAC unit working correctly and efficiently is replacing its filters. The filters work hard to protect the HVAC system from dust and other airborne particles. If the filters are not replaced or cleaned out as recommended they could clog the system causing it to not work as efficiently, which could cause greater problems in the future. Our professionals can replace your filters, keeping out the pollutants so that you can continue breathing easily.
Contact Our Professionals Today
If you need to have your HVAC unit cleaned properly, or if some part of it isn't working correctly, you need to call our team at Air Duct Cleaning El Cajon. Our technicians will make sure the unit returns to its fully functional form in no time.