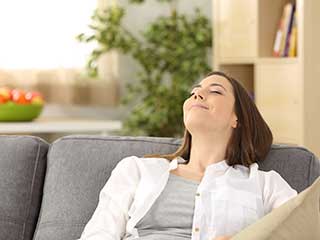 Possibility Of Mold!
Unfortunately, mold grows very easily in various places in your household, as all that's needed is a bit of moisture. It can cause all sorts of damage to your home, including rendering insulation useless, eating away at wood and other structures in your home, damaging belongings and discoloring of the walls, floor, and ceiling. Far more concerning, however, is that its spores are a health hazard. This is particularly a concern for anyone already suffering from breathing issues, like asthma. Considering mold isn't always in plain sight, getting your air tested is an easy way to make sure you don't have unseen contamination somewhere in your house.
Carbon Monoxide Poisoning
Carbon monoxide is particularly dangerous because you can't see or smell it at all, but its accumulation can be very harmful. Anything that involves fire can cause it to build up, such as the stove, furnace, and fireplaces. If you don't have a sensor for detecting carbon monoxide in your home, getting regular air testing done is vital.
Pesticide Use In Your Home
While it's understandable to want to keep your household free from insects or rodents, the products used to keep them away can be harmful to the people in your home as well. Most households have used at least one type of pesticide within the last year according to the EPA, which also means that most would show some sign of them with an air test. However, it's important to ensure there isn't an unusual and harmful amount of pesticide residue in the home, and a test can check this for you.
Pest Waste Dangers
Frustratingly, just as potentially harmful as pesticides is pest waste if they do make their way into your home. Rodents in particular can spread disease from their waste, as well as their cadavers if they wind up dying somewhere in the house. However, even extremely small insects like dust mites can leave behind droppings that can cause issues with breathing, particularly in those with weaker respiratory systems like children and older people. Thankfully, a test can determine if these troubles are present, and even get to the root of the issue.